---
Crumbling Bricks & Pots Solar Water Fountain Garden Cascading Waterfall Feature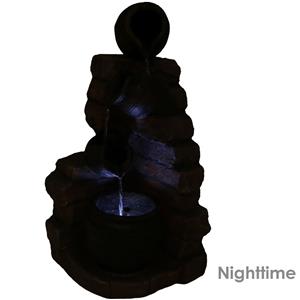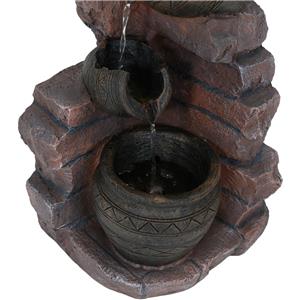 Brand new in Box
Cascading Log Buckets Water Fountain Feature Solar pump with Battery Timer LED light​
Add a rustic pastoral scene to your backyard garden or patio with this outdoor water feature. Made of polyresin, this fountain looks like crumbling bricks with water steadily streaming from each of the pots. The bottom basin features a bright LED light that illuminates the water, making it the perfect outdoor decor piece to enjoy on summer evenings. No need to worry about plumbing since this fountain has an included pump that recirculates water throughout the fountain. No electrical outlets near your preferred spot for this fountain? No problem! This fountain uses solar energy to power the pump and the LED light.
This solar-on-demand fountain can run on solar and battery power. In direct sunlight, the pump will be powered by solar energy and the battery pack will recharge. When it is cloudy or it is nighttime, the battery will automatically run the fountain. When fully charged, the batteries will power the fountain for up to 4 hours. Once the batteries are depleted, the system will automatically switch to be powered by the solar panel, and the fountain will resume running in direct sunlight.
When you want to run the fountain in the evening, you can set the pump to the off position, so that the battery will store solar energy and not run. When you want the fountain to run in the evening, simply turn the pump on and the fountain will operate until the battery is depleted.
Crumbling Bricks and Pots Solar Water Fountain with LED Light, Outdoor Garden Cascading Waterfall Feature, 70cm Tall

Features: 
Powered by Solar; Operates in day and night with Battery/Timer

Three Operation Modes for Different Needs: Continuously On, 4hrs Timer, and Daily 4hrs Timer. 

Low voltage water pump with filter recycles the same water.

Creates the sound of gentle running water 

LED Light will turn on automatically at night to illuminate the spray

Product dimension: 70(W) x 34(L) x 33(H) cm
Solar Water Pump Specifications: 
Solar module: 1.6W 
DC brushless pump operation voltage: DC 8V 
Water flow capacity: 180 LPH 
Battery : Li-lon 7.4v/1.2Ah
Contents: 
1 x Solar Pump kit 
1 x Fountain 
1 x Manual