---
Garden Water Fountain Pool Feature Sculpture Girl with Solar Powered pump SL605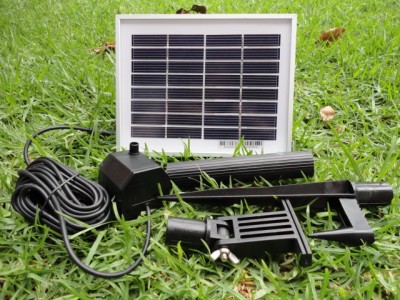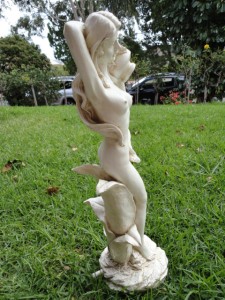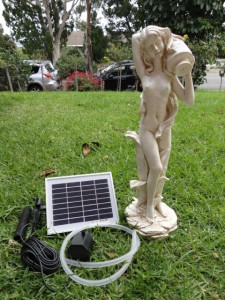 Brand new in Box
1.6 Watt Solar Powered Water Fountain Sculpture of a Young Girl will enhance your garden with a visual point of view and soft pleasing sounds.
The Off White cream like color goddess Aphrodite (Venus) Standing holding a vase is  50cm tall.
This Highly Detailed and Well-Made statue is made of cream colored poly-resin material and will not deteriorate in the sun and rain.  The solar panel pump comes with 5m of wire so you can place the solar panel in a discreet location away from the fountain.
The definition and the intricate details of this piece are simply breathtaking. I have seen this identical piece selling for well over $200 at local garden shops and nurseries.
The hand-painted color accents and antique finish further add to the depth and richness of the artwork. The special production process of this piece, originated from Greeks  who used cream powder mixed in the cold resin in order to ensure a richer, more life-like presentation. 
Simply put, this is very much a Quality Product. This Water works Solar panel is a 1.6 Watt Solar Panel system is intended to run during day only. The fountain come with all set up parts and accessories. 
This beautiful outdoor poly resin Girl  Pond Fountain adds sparkle and sound to ponds and water gardens. Exquisitely detailed with stone-like finishes, our fountains are outdoor safe, sun and weather resistant. Fountains supply important aeration which enhances fish and plant life. These playful pond fountains are an additional delight to water gardening.
Here is what you get:
Girl Pond Fountain Solar Pump kit with 1.6 Watt solar panel 
It can be set up easily wherever desired without the need for batteries or wiring installation.  Tales less than 10 minutes to set up.  No major tools or assemble required. 
1.6 Watts Mono-Crystalline Silicon Solar Panel
6V DC Pump Operation Voltage
Water lift : 50cm
Solar Panel Dimension: 19cm x 15cm
Water flow Capacity: 180 LPH
Cable Length: 5 meter or approximate 16 feet so you can place the solar panel away from the fountain.
Package includes : 
One 19cm x 15cm Solar Panel.
Girl Pond Fountain Statue
6-10V submersible pump with 5 meters lead.
Accessories includes:   1 solar panel and support spikes.
​​This unit is intended for running during day time only.
Our supplies of this unit are low and they have been selling quickly. So order yours today.